All sorts of characters love the Samsung Propel from AT&T. First, Ozzy Osborne used it to decipher his mumblings, now that oh-so-romantic French skunk, Pepé Le Pew is using it to text, "Hello my LUV, I MEES U. I will KEES and KEES U."
Pepé says, "This phone is the little charmer, no?"
Pepé's girlfriend, Penelope Pussycat, seems so impressed and gushes hearts when she gets Pepé's texts on her Samsung Propel (video follows.) Reviewers, were not as impressed as Penelope but rated the Samsung Propel well for texters on a budget. To find out what reviewers wrote, read our Review of Reviews of the Samsung Propel.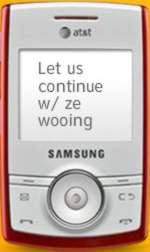 The Samsung Propel is exclusively available from AT&T
with a special promotion for Valentines' Day for the price of $49.99 with a contract after rebates, when you add the
Wireless and News News' $50 Off on AT&T phones or accessories with a plan
coupon-link that makes the Samsung Propel
almost free. We don't say free, because it depends on whether you
consider a Visa Card rebate real money or not. Note: the rebate
requires activation on up to a $35 per month data or messaging plan.
Besides that you can get Pepé to "Text you all over." Pepé even Twitters like this, "Ah, my lil pigeon. 2gethr we r 2 dirty luvbirds."
Unfortunately, when we looked online at the AT&T
website, the Red Samsung Propel is temporally out of stock. However, the
white with red trim Samsung Propel is still available. This is probably
the cheapest, best, discount for the Samsung Propel around, as of today.