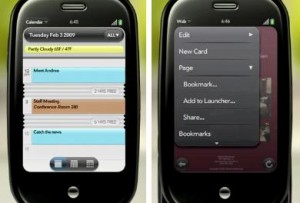 For Mobile World Congress, Palm has released a new Palm Pre demo video that shows how the calendar interacts with features, people, travel information and appointments.
It shows how one person uses his Palm Pre to plan the day, meet with people sort information, and find locations. The web browser has a share feature.
It looks like the user interface is very clean and slick. Many people are expecting that Palm will announce a GSM version of the Palm Pre at Mobile World Congress.
New specifications are showing on Sprint's Palm Pre website and it can be used as tethered modem for a connected laptop or other device - is supported, both via wired USB connection and over Bluetooth. Also up to 7.4 gigabytes of the 8 gigabytes of storage can be used by the owner.
Palm Pre Articles from Wireless and Mobile News