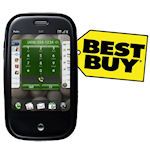 Bob Brust, CFO of Sprint revealed during a webcast investor
conference about Palm Pre supply, "We still have a backlog of subscribers but it's not unmanageable and we get shipments every week ... We'll be short for a while but we're catching up."
He sees that the Palm Pre is attracting both new customers and existing Sprint subscribers.
He said that Sprint had not seen a change in Palm Pre sales since Apple's iPhone 3G S went on sale Friday,tailed sales figures for the Pre when it reports second quarter earnings next month.
The next shipment of Palm Pre smartphones is due in July 8 at Best Buy. Buying a Palm Pre at Best Buy means you don't have to wait for a rebate. Some Best Buy stores are requiring customers who want a Palm Pre held for them to give a $50 deposit in the form of a Best Buy gift card for to be on the pre-order list and be guaranteed a Palm Pre the card can be used for the Palm Pre or anything else in the store.
We previously reported that goo way to get a Palm Pre is be on the waiting list at your local Sprint Store.
Most Recent Articles in the Category Palm Pre.
Palm Pre News Page.
Applications page to get The Best of Palm Pre Apps their Applications and Accessories.