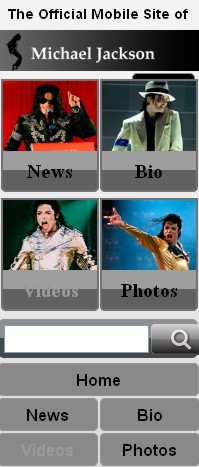 Sony Music with Azuki
Systems will create mobile versions of its artist websites, offering video,
photos, news, and more for the music fan on the go with the Michael Jackson's official website will be the first mobile site to
launch at m.michaeljackson.com.
The Michael Jackson mobile website will feature
Michael Jackson news, photos and streaming access to classic videos
such as "Billie Jean," "Beat It," and the unforgettable "Thriller."

The
site allows mobile music fans to experience Michael Jackson's celebrated artistry.
The Michael
Jackson mobile website is available at m.michaeljackson.com for
Android, BlackBerry Storm, iPhone, iPod Touch, and Palm Pre users.
Azuki and Sony will roll out full support for mobile browser handsets
by the end of the year.
Sony Music will roll out mobile versions of other artists' websites in the coming months.
"The
genius and influence of Michael Jackson's music and artistry is
unparalleled," said Adam Block, Senior Vice President and General
Manager, Legacy Recordings. "We are pleased to be working with Azuki
Systems to create a high quality, rich media experience for
MichaelJackson.com that will allow fans to enjoy Michael's art and
vision via the site on mobile phones in much the same way they do today
on their PCs."


Powering Mobile Media
Sony
Music's mobile sites are being developed in Azuki's rapid web
production environment and powered by the award-winning Azuki Wireless
Platform (AWP). The AWP works in conjunction with Akamai,
the world's leading content delivery platform, to offer unparalleled
scale, reliability and cost efficiencies.

Sony Music artist
sites will serve up the highest quality mobile video along with
dynamically updated photos, news and other content.

"We look
forward to working with Sony Music to demonstrate what is possible for
rich mobile media," said Jim Ricotta, CEO of Azuki Systems. "We are
prepared to support an unprecedented number of mobile site visitors and
are excited to be able to showcase our ability to optimize the
experience for each of them."