Since the Panda update to Google, Wireless and Mobile News has experienced a decline in Google search traffic. We are not a content farm. All articles are new and edited by someone who teaches English.
Starting on February 25, Wireless and Mobile News fell off the face of Google. When we searched exact titles for articles we published, other websites showed up in the the top results, and sometimes Wireless and Mobile News did not show up at all.
This is the statement from the original Official Google blog post, "This update is designed to reduce rankings for low-quality sites--sites
which are low-value add for users, copy content from other websites or
sites that are just not very useful. At the same time, it will provide
better rankings for high-quality sites--sites with original content and
information such as research, in-depth reports, thoughtful analysis and
so on."
Update 06/16/11 @ 11:20am : We've written a new article updating the problems with the Google Panda/Farmer update, today. We've spent more money and many more hours trying to find an answer with only a slight improvement.
Update 04/21/11 @ 3:20pm The Google Panda update still does not make sense. especially when we search on Wireless and Mobile news specific terms. We created the term TS2R Wireless News for news that is "Too Short to Report.," as well as "Wimonews." TS2R Wireless News has been running almost every day since February 21. In Google when we search on the term " TS2R Wireless News," Wireless and Mobile News is first in news results while garbage and scraper sites are higher in Google rankings. Bing shows Wireless and Mobile News first.
Sometimes we refer to Wireless and Mobile News as "Wimonews." When we started seeing the massive scraping we bought the domain name "wimonews" and have not set up the server yet. The first results for "wimonews" reveal how heavily domain names are ranked. above content and mentions. Bing serves up the most accurate results while Google shows a bunch of scrapers and garbage sites. At some point we will redirect wimonews directly to Wireless and Mobile News.
We did an exact title check on an exclusive article we ran yesterday "Droid News: Droid Incredible 2 April 28 Release Date - No Preorders Yet." The first result is a scraper site that scrapes the title only and links back to Wireless and Mobile News. Bing shows Wireless and Mobile News as the first result. Other searches we do often are showing garbage one-liner or few sentence posts leading us to believe that Google ranks shorter articles higher. Since the Panda update we've learned that our mobile website is sending much more traffic to the main website even though Google has been told with robots.txt not to index it.
The Google Panda update has caused so many problems Google itself created the term "Google Panda catastrophe."
Update 04/10/11 @ 3:20pm We have been monitoring Google search results on our specific titles since the update. When we search on most exact titles we are getting fewer scraped sites first on new titles. Older titles still show more scraper sites as the first Google search results.
We were pleased to see Wireless and Mobile News come up as the third result for Bing/Yahoo! results. The term is "HTC ThunderBolt Tips". The Google results are very different, especially number four which is a scraper site which we filed two DMCA requests against via its webhost. The owner removed our content, kept our title, copied the Google first result content into the URL and is getting Google number four. Obviously, the scraper site liked our title, because it was getting a lot of traffic from our work. Our original article on HTC ThunderBolt Tips is what appears number three on Bing, it has the exact title of the URL for the scraper site. The DMCA was sent second time on March 18 after calling the webhost. Google results are on the left and Bing results are on the right.
Meanwhile, searching on our own branded feature "TS2R Wireless News," stills shows Google results of scraper sites and our own robots.txt blocked mobile version.
Update 04/05/11 @11:20am We did a spot Google search check on article we published yesterday "Wimonews Wireless Watches." The top Google web results are scraper sites again!
Update 04/05/11 @4:00pm Today, while trying to find the original source for a competitor's article, we searched on Google for the exact quote in quotation marks. The top Google results were not the original article but a scraper website, then where the scraper copied from, scraper and then Barron's Online the original source for the quote. Yahoo! Bing results show the original article first. Google results are on the left and Bing results are on the right. Which search engine would you use when searching now for a direct quote source?
Update 04/06/11 @10:40pm From Lynn Walford: I wanted to see if there is new episode of Glee to watch. I entered into Google search "watch glee" a term I have used for at least a year. The first result was a funky page that didn't work at all (www.fox.com/fod/play.php?sh=glee) Has an anomaly from outer space invaded the Googlebot?

Update 04/04/11 @10:20am
Here's the latest round of Google search problems for Wireless and Mobile News. Searching on exact titles, in librarian search terms should bring up the original source. As we reported before, scraper sites are shown first in Google search for our titles and using our original content.
Things have gotten slightly better. For example "Wireless and Mobile News Top Best-Read Stories this Week," top results are not Wireless and Mobile News even though its the title of the our website. First result is the Friend Feed (a derivative) then wmns.mobi our mobile website which has told Google in robots.txt to only search it for mobile searches, then two copy-stealers and then Wireless and Mobile News. Click on image to enlarge. So we come up #5 when we use our own title.
Next, let's look at the title "4G Networks 4G Review of Reviews: HTC ThunderBolt Bests Samsung Galaxy S 4G, HTC EVO 4G, HTC Inspire & Motorola Atrix". Readers would be interested to note that AT&T for it's 4G network got only 3G's in ratings. This is the same search we ran two hours after publication on Sunday. First result is scraper site, then a different title than the title input, then scraper, scraper,scraper, scraper, ....
This is information we are sharing should also be of interest to other affected websites, because we are seeing how Google is now ranking things and ignoring titles. Google is making decisions for searchers that don't make sense. When one searches for the title "Great Expectations," one expects the Dickens novel. The next example shows no Wireless and Mobile News results.
Another article published Sunday was "MetroPCS 4G LTE New to 4G Galaxy: Tampa Florida Metro MetroPCS 4G LTEs with Samsung Galaxy Indulge." Even though we input an exact title Google's web search first result is MetroPCS, followed by scraper sites and then Google decided to send the searcher to CNET. The article we published has some different information than CNET, but Google sends the searcher to CNET even though the title is unique to "Wireless and Mobile News."
Do you remember we told you members of our staff are former and current teachers? Teachers check on things. Formerly, we used to use Google to find our past articles directly, now they are not showing up on Google. After we check on all the Sunday articles, we then check on our most popular article.
Yesterday, we published "Preview of Expected-Good Reviews of Droid Incredible 2 from HTC Incredible S." The first Google web search result on the titles is scraper, followed by scraper, scraper and Wireless and Mobile News is number four for our original content and title. If you look at the domain names, they contain trademarked names that related to the topic of the article. We remain within the law and do not use trademarked names in domain names to spoof Google. Smartphone names change all the time and using a domain name with the name of the product is not only unethical, its illegal
Okay, let's look at the first article published on Sunday "Verizon iPhone 4 Top Feb Smartphone, Android & BlackBerry Top OS, Txt G8st, Says comScore." The top four results are scrapers one with a trademarked name in the domain. Here's the stolen, garbaged-out text of the first result "WIRELESS AND MOBILE NEWS According to comScore, Verizon's iPhone was the top
selling smartphone in the United States for the month of February. The Verizon
iPhone 4 alone helped Apple increase .9 % to make up 7.5% of subscribers.
Verizon iPhone 4 Can't Slow Android's Roll: comScore - iPhone News Updated
Google Increases Lead in the Smartphone Market - Gadgets Sector and Stocks
Analysis from Seeking Alpha Here's A Look At ComScore's Data On Smartphone
Market Share..." and the mess is attributed to Wireless and Mobile News!
Many of our evergreen review articles are gone from Google search even if you search our very unique, fun, titles " Review of the Reviews Top Ten Best Android an' Droid Phones Now an' Later." This article is updated whenever a new smartphone is announced. The list changes as new smartphones are reviewed. Searching on the exact title on Google brings up 4 websites with trademarked names in the title before wmns.mobi. Did they spend weeks on research? Do they update the article every few days? Do they pay an English teacher to correct grammar? Do they have an editor with over 20 years experience covering breaking technology. No----- but they come up first for Google search for a Wireless and Mobile News article. It doesn't make sense.
Update 04/03/11 @4:00pm
At around 2:20 pm we finished publishing "4G Networks 4G Review of Reviews: HTC ThunderBolt Bests Samsung Galaxy S 4G, HTC EVO 4G, HTC Inspire & Motorola Atrix" by 4:00pm, other websites including mobilesszrr, bestiphonefeatures.com and sasmungmemoir.org web results show before Wireless and Mobile News. Click on image to see results.
Update 04/03/11 @10:15am: Wireless and Mobile News now appears as the top result for the title "Wireless and Mobile News Panda Problems." However, the Panda problems still persist, we tried some other titles such as "iPhone Therefore i 3D?" "iPad 2 Scarce: Sells Out at Apple Stores, Priced High on eBay, How to Get iPad 2" "Face of Mobile Web Changes with new Mobile Facebook Website" and "Samsung Galaxy S Droid Review of News: Samsung Stealth Droid Charge Owners to Be Charged $299 & Incredible 2 @ $199" other websites show up as first web results for our original content. A screenshot of the Droid Charge search appears at the end of this article. Google searches for words we created and our branded "TS2R Wireless News" still show other websites as first results.
Update 04/01/11 @9:50am: When we searched the term "Wireless and Mobile News Google Panda Problems," today, the first result is Wireless and Mobile News as a news story. There are 6 listings in the web results before Wireless and Mobile News appears. A screen shot shows the results with us not logged into Google at the end of this article. This is not an April Fools joke. The original article is outranked by stolen snips. We've also included a Bing search for the same term.

Update 03/31/11 @2:50pm: We searched the term "Wireless and Mobile News Google Panda Problems," and the first result on Google was not Wireless and Mobile News! Click on graphic above to see full results.
It usually happens within one or two days. After two days, we usually
fall off the search resultscompletely. Articles that were not stolen
are still getting page views, while stolen articles are down to
next-to-nothing.
The results are the worst for anything published before February 26.
Here are the search terms for exact titles that don't display Wireless and Mobile News, with links to the original URLs:
HTC ThunderBolt News: HTC ThunderBolt Update will Fix Video Audio Downer Glitch Google top result is technologynewsplurk.com.
Here's one of our most popular articles:
"Review of Reviews Top Ten Best Android an' Droid Phones Now an' Later" - top Google results are droidphonereviews.net (copy of article) and Droidtipsandtricks.com.

Searches for these titles don't display Wireless and Mobile News at all:
Review: HTC ThunderBolt (Verizon) Review of Reviews.
Xperia Update News: Sony Ericsson Xperia X10 to Get Android 2.3 Gingerbread Update.
Review HTC Inspire 4G (AT&T) Review of Reviews.
Reviews AT&T iPhone 4 vs. Verizon iPhone Compared.
NOTE: Formerly, our Review of Reviews
was the most popular feature. We round up all the reviews, summarize
them and make recommendations. It's kind of a Cliff's Notes for reviews.
Our iPad 2 Review of Reviews received 9,000 reads from Google and then disappeared off the face of Google. If Google "liked" the article that much why would it just stop completely?
One day, we made up a word "wimonewsberry," which appears in the middle of the entry of TS2R Wireless News
on 3/18/2011. When we search for the term "wimonewsberry," top results are
Widyanarfin.com, droidboards.com, mobi.jetjoin.com, www.91 mobiles.com, and
zcallingcard.com. We also made up another word that we are not yet revealing.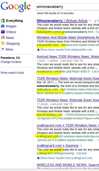 We created "TS2R Wireless News"
feature on February 21, and we have published it almost every day since
then. If you search the term "T2SR Wireless News," the top Google web
results are mobilezrr.com, droidphonereviews.com, wmns.mobi,
blackberry.appmobilize.com, droidboards.com, Verizphoneupdate.com, etc.
Wireless and Mobile News doesn't appear until the end of the page. Click on images to see full results.
This
is only the tip of the iceberg. When we go back further in time, it gets
worse. This has been a major catastrophe. We've filed several DMCA
complaints, which were a lot of work and formerly necessary. With the help of our webhost, we also cut off access to graphics because content-stealers were hotlinking to images from our server.
What we
don't understand is that wmns.mobi, the mobile version of Wireless and
Mobile News, was coming up above Wireless and Mobile News, which has the
exact same content! We've installed robots.txt on wmns.mobi to remove it from Google, but it is still appearing in the results.
We have done something that we haven't seen any other website do, show factual information and actual results. We're not crying about how our key words are lost. We would like to show up in results when people search for the titles of our articles and words we invented, something that was very easy do before the Panda update.
See all affects on Quantacast.
We've seen some very strange search results since the update that don't relate to Wireless and Mobile News and have posted them on a separate page.