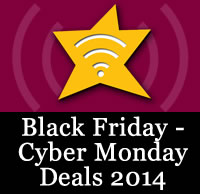 Straight Talk has Black Friday through Cyber Monday deals on all four major carriers. They say that you get the same phones for half the price or save even more money by bringing your own phone. Where you really save is that taxes and fees are included in the flat rate plans. A new deal includes a savings of $2.50 on the $45 unlimited plan when you enroll in auto-refill by December 11.
Straight Talk suggests that you bring your own phone, save half the cost and spend the rest on the holidays.
Straight Talk plans include 30 day unlimited plans include 3GB of high-speed data per month, data speed are reduced after reaching 3GB.
 There are phones available in all price ranges and you can bring your own compatible phone or iPhone when you buy a Straight Talk SIM.
Here are the deals Straight Talk is offering:
Free Overnight Shipping on phones $29.99 or more.
If you want to bring your own phone, the Straight Talk SIM card will only work with an AT&T or T-mobile compatible or unlocked GSM phone. You can also get a CDMA activation kit for other carriers such as Sprint or Verizon Wireless. The CDMA Bring Your Own Phone program does not support 4G LTE, Blackberry phones or branded TracFone, NET10, Straight Talk, SafeLink, or Telcel America phones.
With free overnight shipping and hassle-free 30-day return policy, Straight Talk claims that holiday shopping just got a whole lot simpler.
New features include Easy Exchange and Easy Exchange Plus insurance. If you send your old phone for cash you get an additional $5.00 off a new phone at checkout.
If you are not satisfied with your phone and/or accessory purchase, simply return it to us within 30 days and we will replace it or give you your money back. It's that simple. Straight Talk Service Cards, and /or unused minutes are non-refundable.
See Best Buy,  U.S. Cellular, MetroPCS, Virgin Mobile, Verizon Wireless, AT&T or Sprint Deals.
We have heard rumors that say for instance you want a Verizon phone, you give Straight Talk a zip code and say you are giving the phone gift for an area that only Verizon Wireless covers.