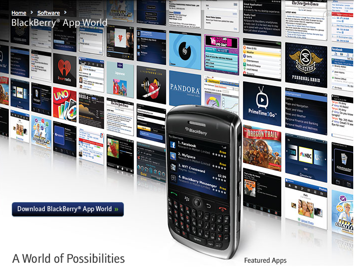 Research In Motion officially launched BlackBerry App World their new on-device application store for BlackBerry smartphones.
The are two ways to get to get apps from BlackBerry App World from your computer or BlackBerry Smartphone.
From a computer go to the BlackBerry App World Page,. where you can download the software to your computer and then upload it to your BlackBerry via a USB cable.
Or go directly to www.blackberry.com/appworld from a BlackBerry over Wi-Fi or cellular networks. It will automatically show apps for for correct BlackBerry smartphone model.
BlackBerry App World is available for free, if you have a PayPal account, and if your BlackBerry smartphone meets the system requirements.
BlackBerry App World is only available to customers in US, Canada and UK and may not be available on all networks
It has a Front Page Carousel that showcases several applications.
Featured applications will vary from week to week. Top Downloads - The
"Top Downloads" area on BlackBerry App World lists applications that
are the most downloaded.
BlackBerry App World is available for BlackBerry smartphones with a trackball or touchscreen running BlackBerry device software 4.2 or higher.
More BlackBerry Articles:
BlackBerry Storm Apps & Accessories Articles from Wireless and Mobile News