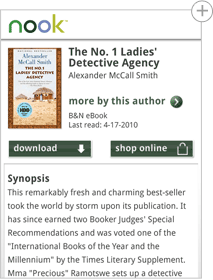 NOOK for Android is now available and offeris he ability to share
eBooks with friends.NOOK for Android offers those with devices using Android OS 1.6 and
higher the ability to shop Barnes & Noble's eBookstore and download titles in
seconds.
Any customer's personal Barnes & Noble eBook library
-- purchased on a NOOK eBook Reader, online at BN.com or on
another BN eReader-enabled device -- will easily sync to their
device in seconds so their library goes wherever they go.
Features available in NOOK for Android include:
Shop Barnes & Noble's eBookstore: Search, explore
and browse through more than one million digital titles at www.bn.com/ebooks directly by
touching Shop Books from the Library. There are more than a
half-million free eBooks available and free samples are offered for
all eBooks. Learn more about titles from thousands of editorial and
customer reviews. Pick a current bestseller, a classic or
anything in between and download it wirelessly in seconds.
Access your personal B&N digital library: All eBooks
purchased through the Barnes & Noble eBookstore sync in
seconds and are ready to read in your Library.
Lend to friends: NOOK for Android is the only Android
eReading app that offers eBook sharing with friends.
Read your way: Customize the eReading experience by
choosing from eight font types and five sizes, read in
landscape or portrait modes and lock the screen orientation.
Enjoy the read: The fun and immersive experience offers
animated or sliding page turns, a navigation scroll bar,
bookmarks and more.
Easy access to your content: Using the Library List view,
see the cover art, sort and filter your eBooks by author, title
or recent reads. Access rich product details for the selected
eBook, including the synopsis and more books from that author.
Read across multiple devices: Android users can now
complement their eReading experiences with Barnes & Noble's
other eReader experiences such as NOOK eBook Readers,
previously announced eBook readers powered by the Barnes &
Noble eBookstore, and a variety of other computing and mobile
devices, including iPad, iPhone, iPod touch, BlackBerry(R) and
HTC HD2(TM) smartphones, HP computers, PC and Mac(R).
Pick up where you left off: Sync the last page read of the
last eBook opened on an Android device with BN eReader (soon
to be renamed NOOK) software-enabled devices including PC and
iPad. Coming soon, both will sync with NOOK for iPhone and more
devices to follow.
Follows the standard: Read eBooks formatted in ePub,
quickly becoming the industry standard.
Those signing up for a new BN.com account when downloading the new
application, will also find three Barnes & Noble Classics
Series eBooks -- Dracula, Little Women and Pride & Prejudice
-- in their libraries, along with samples of two current
bestselling eBooks.
NOOK for Android is now available at www.bn.com/nookforandroid.
Barnes & Noble continually enhances its eReader software and
will add new features to its Android offering this summer
including highlights and notes, a search library and look-up
feature, library grid-view and more. For more information on free
BN eReader (soon to be renamed NOOK) software and apps, please
visit www.bn.com/ebooks/download-reader.asp.
NOOK for Android will soon be followed by an updated
NOOK for iPhone(R), NOOK for iPad(TM), and others in the coming
months. The new eReader software branding aligns with the
company's current NOOK offering -- NOOK 3G and NOOK Wi-Fi(R)
eBook Readers, and the recently announced NOOKstudy(TM) online
study platform and software solution for higher education.