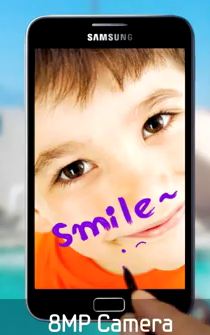 It's a phone, it's a mini tablet, it's a notebook? No it's the Samsung Galaxy Note, a ginormous Super AMOLED smartphone that you can write on. Samsung announced the Samsung Galaxy Note with a 5.3" HD (1280x800) Super AMOLED touchscreen. The ad says you can feel truly smart calling it a new type of smartphone with the core on-the-go benefits of a smartphone, table, notepad, planner and game.
An advanced pen-input technology, called the S Pen, is combined with the Galaxy's Note's full touchscreen for drawing or writing. The S Pen works throughout Android for all functions. The screen also offers 180 degree viewing angle. Some could call that tabulous, tabphone. and noteworthy.
The Samsung Galaxy Note has the same processor as the Samsung Galaxy Tab 7.7, a 1.4GHz dual-core processor. It features a 8MP camera, 2MP front camera, Android 2.3, Bluetooth, microSD, 1GB RAM and 2500mAh battery. Data connectivity support is for HSPA+ and LTE.
Samsung has added on its user interface Samsung TouchWiz with Social, Readers and Music Hubs.
There will be two versions of the Samsung Galaxy Note either 16G or 32GB.
A demonstration video follows.