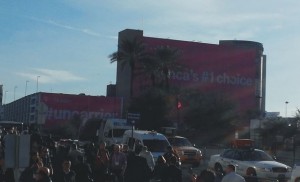 CEA announced that 2014 CES was the largest in show history with two million total square feet of exhibiting space and over 3,200 exhibitors. There were more than 150,000 people who attended with 35,000 from outside the United States.
Wireless and Mobile News attended CES and we have not been able to write about the experience until now due to illness and hotel/motel problems. Although we ran into glitches with the city of Las Vegas itself, the CES show offered insight to the future of tech and changing of the guards.
Let's look at the no-shows and and low-shows...
Microsoft did not have booth, we did see a luncheon at the Sands Convention Center.  Bill Gates and Steve Ballmer were key note speakers in the past.  This shows the decline of the PC as means of entertainment.
BlackBerry showed up at the media event Show Stoppers with BlackBerry Messenger as their main promotion. Also at the event was a new incarnation of the BlackBerry keyboard in the the form of case called Typo from Ryan Seacrest showing that people still love QWERTY.
Google was not there displaying but in use and worn every where.
Motorola Mobility had an invite only hospitality suite at the Wynn for wheeling and dealing.
Busiest Booths
Samsung with its new TVs and new tablets.
LG with its new TV and curved LG Curve smartphone, which is not as flexible as many assumed because the backing is a less flexible form of plastic, than the screen.
Biggest Most Notable Magenta Pink Promotion
T-Mobile covered two buildings with promotions near the Las Vegas Convention Center.
Most Worn Accessory Wearable Eyewear at Media Events
The most elite journalists were adorned with Google Glasses, which looked ridiculous to outsiders.  Google Glass wearers posed for photos with each other showing that they were part to THE most ELITE community bumping into chairs and missing the food with their forks.
Thunderphone Smartphone Reporting Winner --- BlackBerry
Wired reporters had to be unwired and report from their smartphones at CES  reporters used an iPhone 5s, Nokia Lumia 1020, Moto X and BlackBerry Z 10.  Tim Moynihan won with a BlackBerry Z10. The BlackBerry keyboard has predictive text which probably made it easier for him to write with it.
Biggest Live Failure
Michael Bay when he left the stage when he couldn't wing it at the Samsung 104" curved 4K TV announcement on January 6.
Biggest Planned Failure
T-Mobile's CEO John Legere was kicked out of an AT&T party and then announced that T-Mobile will pay for early termination fees for AT&T, Spritn and Verizon as long as customers trade-in their devices.
Biggest Tablet
The Samsung Galaxy Note Pro 12.2 was named the best large tablet by Laptop.  It looked very nice in person too. The handwriting recognition has been altered from the Samsung Galaxy Note III, but still works really well.
Obvious Trends
Many products are focused just on Android and iOS. When I asked one exhibitor if it worked with a computer, she looked at me like I was crazy.
Saddest Trend
Once upon a time reporters spoke to one another in the press room, while eating lunch. Google Glass has made talking to fellow humans unnecessary.
Happiest Attendees
We saw many people from colder climates walking around in shorts and sandals enjoying the beautiful Las Vegas sun and fun.
Most Noticeable Exhibitor Space Use
Connected cars are really obvious because they are so sparkly and pretty.  At the Audi booth there was someone who dusted the car all day to keep it looking pretty.  There were cars set out in walkways inside and outside the Las Vegas Convention Center.
Larger than Life Exhibitors
The size of TVs was so ginormous, when there were people on the screens they were actually larger than the people standing next to the  4K HDTVs.
Most Valuable Freebies
The longest line we saw was for a free pair of headphones.  Other freebies were carry bags. Badges contained RFID therefore, reporters were scanned when they picked up box lunches avoiding battles over sandwiches.  Our badges were also scanned when we received the free CES backpack which this year has a pocket for a smartphone, tablet and small notebook computer.
Cutest Swag
The cutest swag was RCA dogs at the RCA booth reminding us how far music has come....
The RCA dog looks at the Victrola and cocks his head when he hears "His Master's Voice."
Longest Lines
The longest lines reported were for CES shuttle buses  and the Las Vegas Monorail.  An exhibitor in an elevator said that he waited an hour for the Monorail before calling his co-worker for a ride.  The shuttle bus lines ran down hallways and stairs at the Sands Convention Center.
Best Secret Short Cuts
If you go north or far south of the Las Vegas Strip the traffic moves much faster, saving more time than ever expected. Whenever possible if you enter the back of the parking lot of the the hotel and avoid the Las Vegas Strip up to thirty minutes in travel time can be saved.
Best Target
There's a Target that is open until 11:00 pm on Flamingo Road and Maryland Parkway that is right on target for getting what you need late at night.