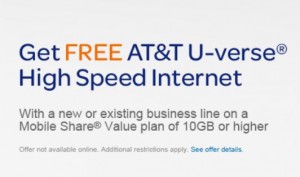 To keep AT&T in the hearts and minds of small business owners  in California, AT&T is offering free U-verse Internet service (6Mbps or less) in  Los Angeles, San Francisco, Oakland, San Jose, San Diego, Bakersfield, Long Beach, Modesto, Riverside, Santa Barbara, Fresno, Visalia, Sacramento, and Stockton.
 The offer is good for business customers such as:
New AT&T wireless business customers adding Mobile Share Value 10GB or higher plans.
Existing AT&T mobility business customers migrating to AT&T Mobile Share Value 10GB or higher plans.
Existing business customers on Mobile Share Value 10GB or higher plans.
 The free AT&T U-verse High Speed Internet service includes download speeds of up to 6Mbps only.  If small businesses choose AT&T U-verse download speeds faster than 6Mbps, they will be provided a monthly credit of $35 for up to12 months or up to $420 per year.

Business customers who opp for 12Mbps will pay $10 a month for year, 18Mbps plans will pay $40 a month, 24Mbps business plans will cost $50 a month and 45Mbps plans will be discounted to $60 a month.The discount is $35 a month.Here's the fine print:
Free Internet Offer for new AT&T U-verse High Speed Internet limited to 768k up to 6Mbps (where available) with no MRC for 1 year; requires acceptance of standard terms for AT&T U-verse High Speed Internet; dynamic IP provisioning only (additional charge for static IP); standard charges for CPE apply (subject to rebate for qualifying customers); tax and additional surcharges apply; standard charges, taxes and surcharges apply following 1 year of service. Offer may not be combined with $150 New Broadband Reward Card offer.

The offer not available to consumers/Individual Responsibility Users. There is a limit 1 Free/Discounted qualifying AT&T U-verse High Speed Internet line per each qualifying Mobile Share Value Plan of 10 GB or higher.
Mobile Share Value customers also get AT&T Locker 50GB free cloud storage.  AT&T recently lowered the rates for Mobile Value Share plan customers and added more data to the mix along with a $100 credit, which did win over some new customers with its best-ever pricing.