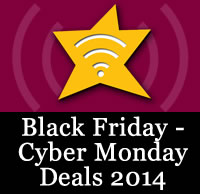 Attention people who are still waking up on this glorious Black Friday.  There are still online deals going on until midnight tonight. Here's a list of the best deals currently being offered online Black Friday.
 Get Ready for Cyber Monday
Cricket Wireless will offer 50% off the Samsung Galaxy S5 and Samsung Galaxy S4 starting at 12:00 am and ending at 11:59pm while stock is available. Boost Mobile will have some breath-taking deals.