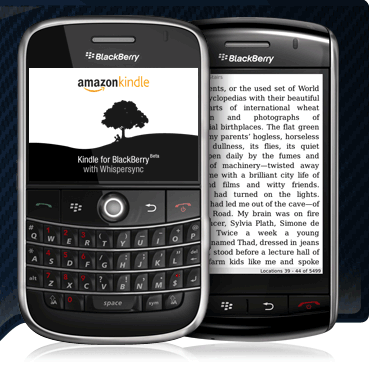 Amazon has released a free app for BlackBerry enabling users to read books on BlackBerry Storm, BlackBerry Curve, BlackBerry Tour and BlackBerry Bold, kind of like they do on the Kindle.
Kindle users can access Kindle books and automatically synchronizes the last page read, annotations, bookmarks between the Kindle and BlackBerry with Whispersync.
Kindle BlackBerry app users can search and browse more than 400,000 books, including 101 of 112 New York Times®Best Sellers. ew York Times Best Sellers and new releases cost $9.99, unless marked otherwise noted.
Books purchased can be read on a Kindle, computer, or other Kindle-compatible mobile device. Kindle newspapers, magazines, and blogs are not currently available for Kindle for BlackBerry.
Kindle for BlackBerry is available to U.S. customers only
Kindle BlackBerry App BlackBerry Models Supported
BlackBerry Bold 9000 9700
BlackBerry Curve 8900 8520
BlackBerry Storm 9350 9550
BlackBerry Tour 9630
Kindle for BlackBerry is available to U.S. customers only:
BlackBerry Storm Apps and BlackBerry Tour Apps lists.
BEST BLACKBERRY STORM APPS ARTICLES: