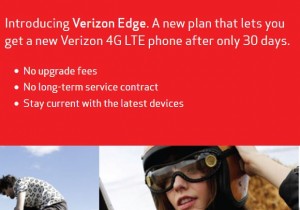 FierceWireless reported that to keep Verizon customers, loyal Verizon customers are offered a loyalty plan that is similar to the add-on data plans of few years ago. The Verizon Wireless "loyalty" plans generally cost $60 a month include free texts and voice and 2GB of data without Wi-Fi hotspots or tethering.
"There are loyalty plans out there that are offered to customers in good standing in various situations," Verizon spokeswoman Debi Lewis wrote FierceWireless.  She reported that it is not something Verizon markets, rather something associates offer in certain cases.
We have found this is true for all carriers if you play your cards right.  We know someone who was offered the $60 month unlimited voice/text and 2GB and a discounted iPhone 5 in the summer of 2013. Fortunately for her, she saved the email because no one else would offer her the plan.
These plans are usually only offered if you are a high-paying customer, who continues to call and complain or ask for better deals.
Another person, we know, had one of the cheapest Verizon calling plans they ever offered with a business membership discount.  When he squawked he was offered 500 minutes for $30 a month and he left Verizon for the T-Mobile Walmart $30 a month unlimited text and voice only plan.
Usually, the Verizon Wireless loyalty plans have data overage fees of $10-$15 per gigabyte.
Verizon Wireless has a very loyal following of users because in many areas of the country it offers the best coverage.  Verizon grandfathered unlimited data customers, as long as they pay full price for the smartphone.  Then they began offering the mobile share everything plans.
Recently, AT&T reduced the monthly fee for family plans called Mobile Share Value plan that includes 10GB of data and Unlimited Talk & Text starting at $160 per month. Pricing is for 4 phones on AT&T Mobile Share Value with no annual contract. Other charges and restrictions apply.
Some deals can be combined with  a $100 Bill Credit for new qualifying line with AT&T. See offer details. This plan was announced on Super Bowl Sunday to compete with T-Mobile un-carrier plans. You either have to bring your own phone or pay full price for the phone.
Verizon Wireless is the only carrier that has not lowered prices or offered something similar to T-Mobile's latest plans. Sprint launched the Framily plan, earlier, this year.