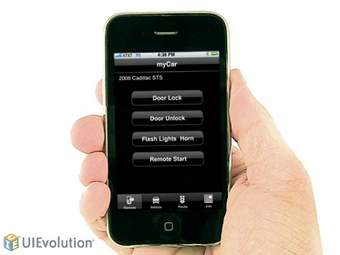 Would you like to control your car from your mobile phone?
UIEvolution has a working platform
that enables car owners to remotely communicate with ttelematics-enabled vehicles from their mobile phone. Services may include tire pressure checks, local guides, gas prices, door locking, remote starts, service history and auto-locating.
UIEvolution's myCar application provides a mobile portal experience that
couples personalized owner services with access and control of their
vehicle. The myCar application connects
localized guides to restaurants, events, weather and gas prices with
remote management of vehicle features like door lock/unlock, long range
remote start and vehicle locator. In addition, owners can monitor the
health of their vehicle, view their owner's manual, schedule service
appointments and review their service history, all from the screen of
their mobile device.
"The UIEvolution myCar application enables vehicle owners and passengers
to receive real-time updates and dynamic content for current and future
services," said Chris Ruff, CEO of UIEvolution. "Auto makers are
empowered to deliver robust content to their drivers, continually
enhancing the customer's relationship with the vehicle, the dealer and
the manufacturer in ways never before possible."

UIEvolution's myCar application will be demonstrated running on an
iPhone and a Chevrolet Aveo in the Emerging Technology Showcase at CTIA
in Las Vegas, NV, April 1-3 in booth 126.