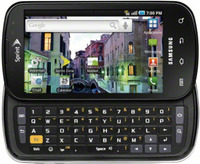 The 4G QWERTY Super AMOLED touchscreen, Android Samsung Epic 4G has a release dat August 31 at 8:00 am with online reservations starting August 13 as well as a limited number of pre-orders at RadioShack
. It will be the first 4G smartphone for Samsung Media Hub movies/video, offer DLNA media sharing,
Powered by the Android 2.1 (updated to 2.2 later), the Samsung Epic 4G is part of the Galaxy S line of smarphnones. Sprint claims that the Samsung Epic 4G is the only 4G smartphone to offer three fast and easy
ways to enter text onto the device - a slide-out full QWERTY keyboard,
virtual keyboard and Swype technology, which allows users to input text
faster and more intuitively with one continuous finger motion across the
virtual keyboard.
The Samsung Epic 4G features a 1GHz Cortex A8 Hummingbird with
3-D graphics, 5 MP camera/camcorder with autofocus, power LED flash,
front-facing VGA camera , Mobile Hotspot capability Wi-Fi b/g/n and
1500 mAh removable battery.
They claim that Samsung Epic 4G's brilliant Super AMOLED touchscreen display offers the
best representation of color on a mobile phone that matches original
content more than 100 times the contrast quality of other leading
displays. It also features faster response time, which reduces
"ghosting" images, wide viewing angles to prevent blurring or distortion
and a thinner design to offer more accurate and responsiveness to touch.
When Samsung Media Hub launches on Samsung Epic 4G, it will be the first
and only 4G handset to feature a video store with movies and TV shows
available for purchase or rental and video content set up for an HD-like
entertainment experience on a handset screen. With 4G from Sprint, users
will be able to get turbo-charged downloads of a full library of video
and literary content powered by some of the biggest names in
entertainment.
Samsung Epic 4G will also share user-generated video content with other
devices thanks to Samsung's exclusive AllShare service. AllShare
wirelessly shares stored music, pictures and HD video to other DLNA
(Digital Living Network Alliance) certified(TM) home electronics, including
HDTVs, monitors, digital cameras, printers and more. Through AllShare,
users will be able to capture moments with the phone's camera and
camcorder and wirelessly show them to friends or family on their
DLNA-certified HDTV or download music from a PC to Samsung Epic 4G and
take it on the road.
The Samsung Epic 4G costs $249.99 with a new line or eligible upgrade, two-year service
agreement, after a $100 mail-in rebate (taxes excluded).