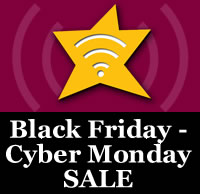 AT&T
announced its lineup of holiday offers starting Black Friday, November 26 and running through Monday, November 29 (Cyber Monday).  The sale includes some of the best prices - from the most popular touchscreen phones to high-end smartphones on sale for only one penny.
The weekend of savings will kick off at 12:01 a.m., EST, on Friday, November 26, and it offers a series of rotating promotions for online shoppers on Friday, Saturday, Sunday and Monday while supplies last at ATT.com
.
Friday, November 26, 12:01 EST - Some of the best prices ever on the most popular touchscreen phones.
Saturday, November 27, 12:01 EST - 24-Hour Refurb Devices for One Penny - select refurbished devices, including the BlackBerry Torch, will be available for only $0.01.
Sunday, November 28, 12:01 EST - Free Quick Messaging Phone Sale - choose from the Pantech Link, LG Vu Plus, Sharp FX and the Pantech Pursuit - all free.  Unlimited messaging plan or a $20 combination of messaging and data plan is required.
Monday, November 29, 9:00 EST - High-end Smartphone Sale for One Penny - just one penny for some of the most sought-after smartphones.  Models will rotate every three hours and will include HTC Aria, BlackBerry Curve 3G, Motorola Flipout, Sony Ericsson XPERIA X10 and the Motorola BRAVO.
"We want our customers to know how much we appreciate them," said Phil Bienert, Vice President, ATT.com, "especially this time of year when they're looking for even more value and more savings."
In addition, new AT&T U-verse TV customers who bundle up to three services online, can receive up to $400 back, beginning Black Friday through Cyber Monday.  Details are available at AT&T U-verse.
Free overnight shipping and waived activation on all new customer and add a line AT&T Wireless orders. Valid 11.19.2010 to 11.22.2010. Restrictions apply.
Dell Inspiron Mini 10 HD for $.02* until 12-31-10 at AT&T.com. *2 year agreement and restrictions apply.
BlackBerry Deals at AT&T
All smartphone offers require AT&T voice and minimum $15 per month data plans.  Quick messaging devices require an unlimited messaging plan or $20 combination of messaging and data plans.  All offers require a two-year service agreement.  Some restrictions and other charges may apply.
If you are new to AT&T, use the AT&T Coupon-Link $50 Off AT&T Wireless with Plan for new customers with a contract (details).