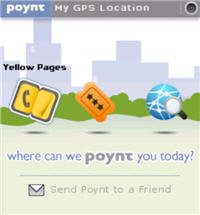 Searching for local information on your BlackBerry Tour is easier with Poynt. Poynt is a feature-packed 411 that uses the BlackBerry GPS, cell-site-location and input to find businesses, and events near where you are.
Poynt has been pointed out to be a favorite of readers for local search especially on the BlackBery Storm because you can call or map listings
and browse websites with the click of a button.
The Poynt app lets you customize your search settings with
favorite and frequently searched locations. The Poynt movie guide offers complete with show times, theater listings, plot
summaries and trailers. You can buy tickets and these features;
Search by title, theatre and genre.
Listings
include showtimes, ratings and genre.
Listed in order of theaters
closest to your seach location.
Maps and driving directions available.
Watch
the movie trailer without leaving Poynt.
Add movie time/location to your calendar.
When you find a listings that you like you can add the listings to your BlackBerry Address Book to retreive later.
We have confirmed that Poynt works on the BlackBerry Tour. Poynt is available directly from the BlackBerry Browser at http://m.mypoynt.com/ or via BlackBery App World.
There have been a few reports of some BlackBerry Tour users not getting a GPS. Poynt will have a patch/fix shortly.