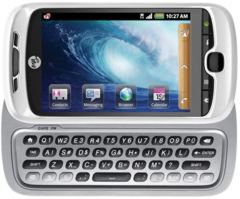 The
T-Mobile myTouch 3G Slide will be available from T-Mobile on June 2. It offers a new Faves Gallery social networking unified app,
multi-modal screens and a "genius" to take your commands. The T-Mobile myTouch 3G Slide will cost $179.99 after rebates with a contact and will be launched four days before Sprint's super HD big screen Android smartphone the HTC EVO 4G Android 2.1 smartphone which will sell for $199 after rebateslThe T-Mobile
myTouch 3G Slide, designed by HTC, has a 3.4-inch HVGA
5-megapixel camera, a music player with a pre-installed 8GB
microSD
memory card, and enhanced video capabilities with easy-sharing via
e-mail, MMS ,YouTube and Picasa.It features special Android-add-ons
that make social networking easier.
Faves
Gallery offers up to 20 of your favorite people and the different ways
to
communicate with them -- calls, texts, e-mail, instant messaging,
social
networking updates in a widget app e with photos,
contact
information and one-touch ability to respond.