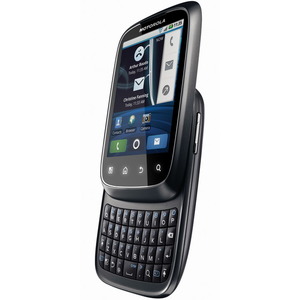 Beside the Android trio at AT&T and two Verizon smarpthone launches, Moto is spicing up its Android recipes with the Motorola Spice that has a curvy, rounded design on the outside and looks the most like the Palm Pre than any other smartphone, but it has a touchpad on the back and Flashback app for keeping track of calls, data and emails.
The Motorola Spice has a full QWERTY slide-out keyboard, with a 3-inch (240x320 QVGA) touchscreen and multi-touch support for text input pinch-to-zoom and a slide-out QWERTY keyboard. Features include a 3-megapixel camera, Wi-Fi, a GPS and 256MB RAM x 512MB ROM that supports up to 32GB microSD card.
The Motorola Spice is conscious of the environment; it uses 25% post-consumer recycled plastics. The Motorola Spice news release claims that it does everything you want and does it with a conscience.
Using multiple applications to check text messages, calls and calendar events can be time-consuming. But with Motorola's exclusive Flashback application, you can now view and manage your phone communications and content from a single application. Flashback keeps track of your call history, messages, calendar events and photos and videos, and it maps them to a timeline. It pulls the key information from your day, simplifying your life and communications.
The Motorola Spice offers a PC-like browsing experience with a full HTML browser. The Backtrack rear-touch panel allows navigtion without obstructing your screen.
The Motorola Spice has a 3MP camera that lets you capture and playback video. Plus all your videos and pictures will live in one convenient gallery that's easy to scroll through and access from any PC - no software required thanks to Moto Phone Portal. You'll also enjoy an all-in-one music player that includes a music library, FM Radio, song recognition application and Music Store.
The Motorola Spice will be available in Q4 2010.
Other Motorola Android phones announced at CTIA are the Droid Pro, Motorola Citrus, Motorola Flipout, Motorola Bravo and Motorola Flipside.