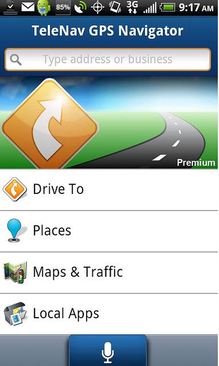 TeleNav GPS Navigator has been updated to 6.2 for Samsung Galaxy S Samsung Captivate, Sony Xperia, HTC Aria, and Motorola BACKFLIP (Running Android 2.2). New features include expanded Speech
Recognition, Quick Search, Multiple Route Suggestions, enhanced local
search content with more listings, and overall improved application
speed.
TeleNav GPS Navigator 6.2 now offers Multiple Route Suggestions and
allows users to choose which route they prefer to take. Once a
destination is entered, users are presented with up-to-three route
suggestions overlaid on a map with route distance and estimated drive
times. Users can review information for each route and select the option
that best fits their personal driving needs.
TeleNav GPS Navigator 6.2 also includes a new user interface for the
existing Commute Alert feature, making it easier for users to set and
receive automatic alerts at a preselected time to show current traffic
conditions along their daily commute. Users can choose to have these
alerts sent via email, SMS, or within the TeleNav GPS Navigator
application so that they can plan their personal daily commute before
hitting the road.
TeleNav GPS Navigator 6.2 includes Quick Search, a new feature
designed to make finding local places quick and easy. Located on the
application's home page, users can simply touch the Quick Search box and
type an address, landmark, category (i.e. Italian Food), or a business
name. TeleNav GPS Navigator 6.2 uses predictive search technology to
suggest results as the user types their desired location.
TeleNav GPS Navigator 6.2 has included an expanded Speech Recognition feature, allowing
users to press a single button on the home page and speak a command for finding an address or finding a business, as well as answers to questions, such as
"How's the weather" or "How's traffic."
TeleNav added millions of new Points of Interest (POIs)
to its search database, giving TeleNav users access to more than 22
million U.S. business locations, historical landmarks, airports and
more.
In addition to multiple route options and search enhancements,
TeleNav GPS Navigator 6.2 includes enhanced map performance and design,
allowing for faster panning and page refreshes when users view the map
screen within the application. The map view also includes one-click
options to layer information on the map screen, such as traffic flow
information and the locations of traffic cameras.
TeleNav GPS Navigator 6.2 also features a new POI search screen
interface designed to make searching for business categories simpler. When viewing the POI category page, users are presented with an
easy-to-read view of popular business categories, and they can access those
listings with one click.
Availability
TeleNav GPS Navigator 6.2 is available immediately on the Android
Marketplace to AT&T customers (as AT&T Navigator 2.2) that are using the
Samsung Captivate, HTC Aria, Sony Ericsson Xperia X10, or Motorola
BACKFLIP devices running Android OS version 2.1 or above. The
application will be available soon on additional Android smartphones through
other wireless carriers. TeleNav is free for the first 30 days.