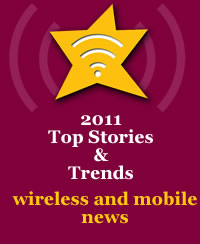 As we round-up the best smartphones of 2011, there were also top stories and trends in wireless and mobile news. What were the most important, exciting, top, and best stories of the year for Wireless and Mobile News?
Top Ten Best Wireless Trends in 2011 from Wireless and Mobile News:
Trend Waiting for Gadgets 
There is an old saying: "good things are worth waiting for", and there was a lot of waiting in 2011.
The HTC ThunderBolt was the first 4G LTE smartphone from Verizon Wireless announced in January at CES. It was then delayed.  The Samsung Galaxy S II line was announced at Mobile World Congress in February. It didn't come to United States until early fall.
The Samsung Galaxy Nexus experienced delays including the first announcement that scheduled it for CTIA Wireless release in October. It was finally released on December 15.  Reviewers loved the superphone so much that it appeared on many top best lists of the year even before it was released.
The Asus Transformer Prime quad-core tablet was supposed to be ready in time for Christmas. Some lucky preorders of the quad-core tablets were able to get them before Christmas, while full stock is delayed until January 2012.
Trend Waiting and Waiting for Updates
Android 2.3 Gingerbread was released in early 2011 on the Samsung Nexus S 4G. Updates followed for Droid X, Droid Incredible, Galaxy S 4G, Samsung Droid Charge and Samsung Galaxy S Fascinate throughout the year, while owners of other smartphones are still waiting. Now that Android 4.0 Ice Cream Sandwich has been released, Motorola, HTC, LG and Samsung have announced what models will be updated to Android 4.0 ICS.
Charged with Battery Drain
Along with 4G LTE, came battery issues. We gave tips on how to save Android battery life for Android smartphones, battery saving tips for the HTC ThunderBolt (extended battery) and our battery tips for the HTC EVO 3D, myTouch 4G Slide and HTC Sensation 4G were also popular. Users of the HTCs tweeted our tips to their followers.
Price Drops Fuel on non-iPad Tablet Sales
We called the HP TouchPad the "tablet that would not die." After HP blew out the 16GB models for $99 and the 32GB models for $149, the tablets showed up on eBay for higher prices. Employees then depleted the TouchPad stock and retailers used the low-priced tablets as promotions to HP computer buyers.
The Kindle Fire was the top gift for the holiday, while it worked as Amazon.com's "cash register". Although plagued with a clunky user-interface and the lack of high-end features, the operating system has been updated with improvements.
When Verizon dropped the price of the Motorola Xoom down to $199 with a contract on Black Friday and Cyber Monday, stocks of Verizon sold like an HP TouchPad fire sale. The Motorola Xoom was rated higher than the original iPad but had a similar price tag.
It's the Law?
Lawsuits over intellectual property, trademarks and patents have created a battlefield in international courts and trade associations.
Samsung Overtakes Apple
Samsung is gaining market share over Apple including beating out the iPhone in the top best smartphones of the year for the Samsung Galaxy S II and Samsung Galaxy Nexus.