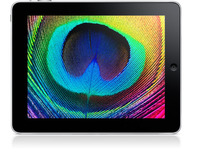 The phrase "There's an app for that," is very true when it comes to music on your iPad. Many of these apps were either Apps of the Day or favorites on the iPhone. Here are some the top best music apps we've been able to round-up that are available for music. All of the streaming radio apps are free.
Pandora Radio: Named Time magazines best iPhone app Pandora has been
transported to the iPad, Pandora Radio is your own free personalized to
stream music on iPad. Just start with the name of one of
your favorite artists, songs or classical composers and Pandora will
create a "station" that plays their music and more music like it. FREE
Shamzam Name That Tune App - Shazam lets you know what song is
playing. Just point your iPad towards the music source to identify and
buy the track, or share your discovery with friends and family. This app has been very popular on the iPhone. FREE
iheart Radio - iHeart Radio streams broadcasts from nearly 400 of America's favorite
local radio stations. Bookmark your favorite stations, tag songs for purchase on iTunes and
view lyrics to your favorite songs. iheartradio also features the best
selection of exclusive digital stations including Slow Jams, White House
Brief, erockster, Pride Radio, Smooth Jazz. FREE
Slacker Radio - This app offers expertly programmed stations The free Slacker Radio App gives you access to the entire Slacker music
library featuring millions of songs from thousands of artists. Listen to
over 100 expert programmed radio stations or create your own custom
stations directly on your iPad. FREE
PAID:
Pianist Pro - Pianist PRO is a virtual piano for the iPad. Use it as a
musical scratchpad when away from the studio, or as an instrument to jam
with your friends. It includes a arpeggiator, a drum machine, a choice of instruments, and a completely
new interface that makes playing piano scales fun again. On April 5 Pianist Pro was the Top Music App on the iPad, and 30th Top Selling App
overall. ($9.99). Available on iTunes .
Sound Hound - song recognition app with lyrics, music discovery, charts (based on what people are IDing, ) and full playlist playback. ($4.99).
SugarSync
now works with the iPad and whole bunch of popular aps blasted the app
store in time for the iPad
launch.
Today, there have been a lot of
iPad news stories, the
iPad topped Android for Boingo Wi-Fi use, the $29.99 unlimited plan from
AT&T will be truly unlimited, there have been over
524,000 sold, cost $260
to make Wi-Fi issues have
been reported.,