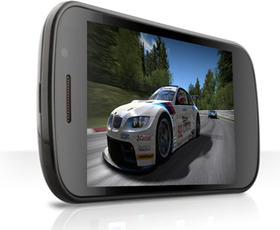 Google Nexus S Rated 4 out of 5 by Wireless and Mobile News' Review of Reviews
Reviewers of the Nexus S liked the pure Google experience, brilliant Super AMOLED touchscreen, snappy performance, improvements to Android 2.3 Gingerbread, and improved keyboard. They all noted that the Nexus S lacks a microSD card slot for storage expansion, it lacks HD (High Definition) video recording, and it will only record 720p video. Reviewers also noted the improved features of apps management, keyboard, suggested words, voice-to-text, text-to-voice, front-facing camera, and NFC (Near Field Communication) for wireless-data reading and
payments from the phone.
The 1GHz Samsung Humming Bird processor of the Nexus S was fast and rated above-average in benchmark tests. Reviewers, however, didn't notice any improved functionality of the curved 4-inch Super AMOLED touchscreen (800 x 400) that is supposed to fit your face better when used as a phone
The 5-megapixel rear-facing camera/camcorder has many camera functions and clear satisfying photo quality, but the flash was found to be too bright by one reviewer. The new copy/paste function is a mixed bag because it works differently in different apps.
The Nexus S also features Wi-Fi, Bluetooth, VGA front-facing camera, Google apps, and a 1500 mAh battery with good battery life.
Most Android smartphone carriers have apps and user-interfaces added-on to the Google operating system. The Nexus S is called pure Google. The Samsung Galaxy S phones have the Media/Social Hubs, HTC Sense, adds predefined home screens, and social media synching. The carriers then add-on even more "bloatware" so that when a an update is available for Android, it takes weeks or even months before an update is delivered OTA (over-the-air). Because the Nexus S is pure Google, it will get the fastest operating system updates.
Priced at $199.99 from T-Mobile with a contract, and $549 without a contract, the Google Nexus S should be test driven along with the Samsung Galaxy S Samsung Vibrant and T-Mobile G2 to see which Android experience fits your needs the best.
Kent German at CNET rated the Nexus S 4 out of 5, for sleek design, Super AMOLED touchscreen, Android 2.3 Gingerbread "pure Google" and good performance. He didn't like that it feels fragile, lacks a microSD card slot, has no HSPA+ support, and fewer new features over the Nexus One. He had hoped for more new features. Improvements over the Nexus One include a front-facing camera, NFC chip, three-axis gyroscope, larger screen, lighter weight, curved screen, and no trackball. Voice input can be used to correct individual words on a block of text. The speech-to-text option can read out text on the screen as you select it. GPS worked well. The camera has many advanced features with an almost-too-bright flash and quite satisfying photo quality. The browser worked well like other Froyo phones with a nifty copy/paste feature. Call quality was admirable.
Mark Spoonauer at Laptop rated the Nexus S 4 out 5 for fast performance, curved touchscreen, better keyboard, battery life, improved app management, and NFC. He didn't like that that it lacks HSPA+ (T-Mobile 4G), HD video, cut/paste non-uniformity, and lack of a dedicated hotspot app. He especially liked that, when you turn off the Nexus S, it zaps like a tubed television. There is a new, better way to shut off apps from the menu screen. There are also 5 customizable home screens. In benchmark tests, the Nexus S was above average. Wi-Fi hotspot mode is embedded in wireless settings and is not a separate app. Bundled apps worked well. He didn't like that it lacked HD video. Photo quality was decent. Call quality was clear and battery life was good.