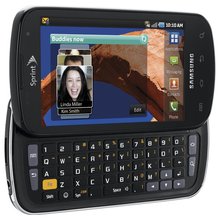 Finally, Samsung Galaxy S Samsung Epic 4G owners will get the update to the Android 2.2 Froyo. Sprint has posted a support page showing that the Over-the-Air update will roll out on February 21 with most getting it by February 24. It will also fix the GPS glitch.

Samsung Epic 4G owners will receive a notice that the update is available and will be prompted to install it.
If you are not yet in the queue and you attempt to check for a software update manually, you will receive a message saying "no upgrade is available." It just means that your device isn't in the current wave of updates. You will not be able to make emergency calls during the process.
This Samsung Epic 4G software update (version EB13) will include:
Upgrade of the Google OS from Éclair to Froyo (2.2.1).
Ability to install applications to external storage.
Improved Bluetooth device support.
Bluetooth Voice Dialing.
Flash Player 10.1.
GPS Enhancements.
Improved OS performance.
There was an update briefly available for the Samsung Captivate that mysteriously disappeared.
The newest Samsung Galaxy S phone, the Samsung Galaxy S 4G, will launch on T-Mobile February 23.
Many of the Samsung Galaxy S phones were named in Wireless and Mobile News' Review of Reviews Top Ten Best Android an' Droid Phones Now an' Later, as well as the Top Ten Best Smartphones.