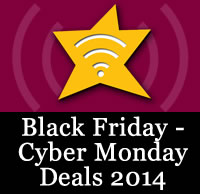 AT&T likes to use the number 9 for holiday promotions and this year is offering great deals all week-long. The major fee saver is that AT&T is waiving the activation fee for all of December which is a $40 value.  You will have to pay activation fee if you buy your AT&T smartphone through other retailers.
Everyday of Cyber Week these deals are hot:
You've got nine chances to save on these select mobile accessories  pay just $9 each! (Valid 12/1/14 - 12/7/14
)
In fact they will even pay you to switch Get a $100 wireless bill credit when you buy an LG G2 or LG G-Flex Smartphone( online with AT&T Next and activate it on a new line. Other charges & restr's apply. Valid 12/1/14 (Cyber Monday) -12/7/14 only
)
Deals that end on Cyber Monday are:
Other AT&T Cyber Monday Deals:
 The Samsung Galaxy Tab 4 8.0 is $99.99 with the purchase of any Samsung Galaxy smartphone. If you purchase a Samsung Galaxy Alpha for $0 down on AT&T Next, you can get the  Galaxy Tab 4 8.0 for 99 cents. Get 50 percent off a Samsung Galaxy Tab S keyboard when purchased with a Galaxy Tab S.
Motorola Madness: Save $50 on the Moto 360, Moto Hint or Moto Sliver II when you purchase the Moto X .
Charger Special - the SuperCharge power bundle for $75,  includes a portable back-up battery and your choice of any charging cable, and any car or wall charger.  You can also save $10 on a car or wall charger when you purchase a new device.
Ends Tuesday:
Receive a  $100 wireless bill credit when you buy an AT&T Certified Like-New smartphone online with AT&T Next and activate it on a new line.
All of December:
  You can also get free charging at Starbucks. Starbucks is now enabling customers to charge their phones wirelessly in a partnership with AT&T.
AT&T pllans include Unlimited Talk & Text for your phones, shared data for all your devices, and range from 300MB to 50GB of data to share* You may add up to 10 devices to each Mobile Share Plan.