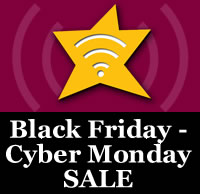 Early results from The NPD Group, Inc.'s "Anatomy of Black Friday and Cyber Monday 2010" are in, and the Black Friday weekend started off with a bang.
According to these early results, there were slightly more purchasers this year than last year. The conversion rate (those shoppers that actually purchased) was up 4 percent over last year for this time period. The highest conversion rate is held by those shoppers who reported shopping in a store with an almost 95 percent conversion rate.
"Conversion rates for Black Friday and super Saturday are always very high, but to see growth of 4 percent over the year before, tells us two big things," said Marshal Cohen, chief industry analyst, The NPD Group, Inc. "One is that those people that went to shop bought, and two is that the retailers did a better job of luring consumers in with big deals and great savings."
The survey showed 33 percent of consumers bought items for themselves on Black Friday, which compares to 26 percent in a normal holiday period.
Update 11/28/10 1:57 PM PST: The conversion rates are still holding strong. The number of survey respondents that report making a purchase during their shopping, whether in a store or online, is up almost 7 percent over last year. (The conversion rate is the number of those shopping anywhere that report actually making a purchase.)
These results also show that consumers did engage in 'pre-searching' their purchases. Almost 45 percent told NPD that they did online research before they went shopping. Other media that respondents cited when asked about doing their homework were TV ads, catalogs and consumer reviews.
"This is my biggest sign of optimism in consumers this holiday, the increase in the number of respondents reporting they made 'impulse purchases,'" said Cohen, "This tells us that consumers are buying for themselves, again and sets the stage for growth this holiday."
Methodology: The Anatomy of Black Friday and Cyber Monday 2010 is an online survey of a nationally representative sample of 1768 US consumers ages 18+ assessing what they did on Black Friday (and to come Cyber Monday) and why. The results presented here represent preliminary data collected between Friday, November 26 and Saturday morning November, 27.
There are still super weekend and Cyber Monday deals happening now:
MetroPCS has deals on the BlackBerry 8530 with $80 off and reduced service to $50 a month. They've also reduced prices with $100 off instantly on the
Samsung Code (a Windows Mobile phone), $70 off the new Samsung Messenger III
(only $49), and $50 off the Samsung Freeform II.
Amazon Wireless has some of the best deals on BlackBerry with one-cent BlackBerry smartphones and no activation fees with a contract. We also found great web deals from Verizon, AT&T, U.S. Cellular, and Wirefly.
Black Friday through Cyber Monday shopping research suggests that you'll have better web buying experience than with mobile shopping.
For best incentive to switch to a smartphone, U.S. Cellular's $150 activation credit for smartphones is the most tempting.
Black Friday through Cyber Monday Articles: