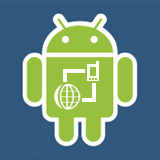 We've been researching the top best Android apps for Droid by Motorola and Droid Eris which will be published shortly and found this very useful app for a quick tethering of your Android smartphone to your computer.
PdaNet provides FULL Internet access so to email, instant message programs will work without any setting changes. Supports both USB Tether and Bluetooth DUN.
PdaNet does NOT require root access or hacking your phone's firmware in order to work. It is a regular Android application that works on all Android phones as-is. Tethering is fast, secure and USB mode will also charge your phone at the same time. Your phone can either connect to 3G data, WiFi, or even through VPN and PdaNet will share the connection with your computer.
This in an independent app and not available from the Android
Market. The carriers don't like users tethering without one of their
tethering plans.
The trial version is free while the full version is $29.99. Once the
trial expires, you can continue using PdaNet for free. The only
difference is that free edition blocks https ports. This app falls
into a "renegade" category, some reviewers suggest that you check with
your carrier to see if you can "tether" your Android phone. It's a
gray area, and we can't tell what the carriers will do to you if they
find you used too much data....
Your can instal PdaNet from your computer.
How to Setup & Use PdaNet for Android
Download the software to your computer from the PdaNet website.
Enable phone to install non-Market apps: tap "Menu", tap "Applications", check "Unknown Sources"
Plug your Android phone into USB (first time use will install the app onto your Android phone from computer)
Toggle On/Off button on phone for Internet tethering
From the PdaNet icon in bottom right task bar on computer, click "Connect."
Review of Reviews Best Top Free Android Apps T-Mobile G1 and T-Mobile myTouch 3G.
Top Best Android Apps 2Day: Top Ten Paid Android Apps Full of Tools.
Top 10 Free Android Apps 2Day: Weather, Rings and Jokes.
Android n' Droid Apps Articles: