We've discovered some new BlackBerry (Storm, Bold and Curve) apps that we think you would like. Most of the apps support the more recent BlackBerry models. In general BlackBerry apps usually work on non-touchscreen models provided they have the correct operating system, while the BlackBerry Storm requires some extra programming for the touchscreen. Some of the best new top BlackBerry apps are available for download over the air, while others can be found in BlackBerry Application Word. Most of these BlackBerry applications are free of charge, sometimes there is premium version available with more features.

Entertainers and Reminders
Shortcovers eBook Reader - this
cloud-based reader app gives you access to the Shortcovers service with
an eBook store that offers some free eBooks. The Shortcovers service
allows readers to read thousands of bestselling books, chapters, news
and magazine articles, short stories, blog posts and more, online and on your BlackBerry. As a member you
can bookmark and save books, chapters, articles and stories, plus
build a digital library and rate, comment and share your favorite reads
with your friends and family. Creative types can also write their own
shortcovers. Books are reasonably priced and appear cheaper than the
paper versions. You can try before you buy.(Available for Storm, Bold, Curve, 8000 Series Blackberry devices.)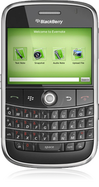 Evernote for BlackBerry: this is the ultimate note taking app with search functionality. It lets you capture any experience, idea, or
inspiration as it happens, wherever you find yourself. Evernote for
BlackBerry also lets you search and find all the notes that you made
using Evernote on your desktop, so that all of your memories are always
at your fingertips. You can Create and edit new notes, snap a photo right into your account, record a quick voice memo, attach files to notes and most important search and find all of your notes. Evernote works on the BlackBerry Storm, Curve and Curve.

Stitcher- stitches your favorite podcasts and audio together it also helps you
discover new audio like the ones you already like.Stitcher streams
on-demand news, talk and podcasts to mobile devices and requires no
syncing or wires. TIn addition to supporting the Storm, the latest update
includes improved stability and a number of upgrades for the Curve 8300,
8310, 8320 and Bold 9000 models on which Stitcher is already available.
The app will be continue to roll out for additional BlackBerry models
in the near future, with the Curve 8900 version coming in the next few
weeks.

UTILITY
LEDReset: This simple BlackBerry Storm app turns off your BlackBerry's LED light until the next alert. Over the air free version.
OrientationLock is a free application that allows you to lock your orientation in most apps. It does not persist across reboots. Available OTA here.
ForceRadioOn: when the battery is low sometimes the radio doesn't stay on. When the battery is too low for radio usage, you go into this
application and click on the button to turn on the radio. Now you can
use it again for any emergencies you might have. The use of this
application is at your own risk. It is only suggested to be used in
emergency situations. It is available for free at Mobihand.
BEST BLACKBERRY STORM APPS ARTICLES:
BlackBerry Storm Apps of the Day and More Applications aka Apps:
BlackBerry (Storm, Bold Pearl, Curve, 8800) Free Sports Apps Today: ScoreMobile BlackBerry.
BlackBerry Storm App of the Day: gwabbit.
LogMeIn BlackBerry Storm Apps Outed at WES.
BlackBerry Storm Free App of the Day: Fee Finder Calculates, Tip, Mortgage, and Auto.
Free TetherBerry Beta Apps for Macs for BlackBerry (Storm).
Launch2Net Apps Tethers Macs to BlackBerry Storm.
BlackBerry Storm Voice Control App: Vlingo.
BlackBerry (Storm) Free App of the Day: Pocket Express.
BlackBerry (Storm) Free App of the Day: I Love BlackBerry, BlackBerry Addiction Tester.
4.7.0.141 Verizon Version of BlackBerry Storm Update Coming May Day or Later.
BlackBerry Storm Update OTA Upgrade on May Day, This Friday.
BlackBerry Storm Level Apps Checks Level
BlackBerry Storm Qik Live Video Share Apps.
Ticketmaster BlackBerry Apps.
BlackBerry Storm Funambol Cloud Sync and Pus Email Apps.
BlackBerry (Storm) and Java J2ME BOLT Mobile Browser Apps.

BlackBerry Storm Decorative Protection Unique Skins.
BlackBerry Storm Free Flying Game: Flight Path.
SitOrSquat Free BlackBerry and BlackBerry Storm Toilet-Finder Apps.
BlackBerry Storm Play Storm Piano.
Free BlackBerry Storm Artsy Theme: Art Gallery v.1.
BlackBerry (Storm) Free Apps of the Day: eReader Pro.
BlackBerry Storm Controls Race Car? Get Punked.
Hail-a-Cab Apps for BlackBerry, iPhone or Windows Mobile Phone.
BlackBerry Storm Free Music Download of the of the Day: Chris Cornell's Stop Me.
BlackBerry Storm Free App WHERE, Location and Map App.
BlackBerry Storm App: QuickLaunch.
Free BlackBerry Storm Themes BlackLight Themes.
Free BlackBerry Storm App SMS2Desk Turns SMS into Email.
Free BlackBerry Storm Download Song: Jonas Bros Remix.
Free BlackBerry Storm and iPhone Apps of the Day: GIST (Data Speed Monitor).
Free BlackBerry Storm App: StormSketch Turns Storm into Sketching Tool.
Free BlackBerry Storm App - Goolge Maps for BlackBerry Storm with GPS.
Free BlackBerry Storm App Poynt GPS Locations, Listings, Maps and Movies.
Free BlackBerry Storm App - BlackBerry Storm Light Saber.
Free BlackBerry Storm Download - Rihanna's Rehab Remix.
Free BlackBerry Storm App - Slacker Radio for BlackBerry Storm.

BlackBerry Storm Accessory : OtterBox for BlackBerry Storm.
BlackBerry Storm Game: Tiltris Teltris-Like Game.
Control Video Camera Apps from BlackBerry Storm or Bold.
BlackBerry Storm App: BeamReader.
BlackBerry Storm App: TwitterBerry.
BlackBerry App: FlyCast Free Radio with 1200 Stations.
BlackBerry Version of Slacker Radio: BlackBerry Storm Version Soon.
Manage Lights and Appliances with BlackBerry Storm, iPhone and G1.
BlackBerry Storm App: Free QuickPull Frees Up Memory.
BlackBerry Storm Wish-List 2.
Use BlackBerry Storm as Garage Door Opener.
TalkLock Turns off BlackBerry Storm's Touchscreen - Fixes Touchy Issue.
Starter Kit for BlackBerry, Storm Wish-List.
Map App for BlackBerry Storm - Google Maps.
TeleNav Mapping GPS App for BlackBerry Storm.
BlackBerry Storm YouTube App.
Best BlackBerry Storm Apps -Suggestions for Holidays.
BlackBerry Storm Must-Have Accessories Add-Ons
Weekly Update: BlackBerry Storm Which Update / Upgrade Works Best?
BlackBerry Storm Danger Warnings - Do's and Don't's.
Fun BlackBerry Storm Tilty Marble Game: Marble Trap.
BlackBerrry Storm Takes Dication with MyCaption